Jerry's Artarama, National Art Supplies Retailer Supports Veteran Comic Book Artist Jamal Igle by Sponsoring "Molly Danger" Comic Book Launch Party to be held Saturday October 12th, 2013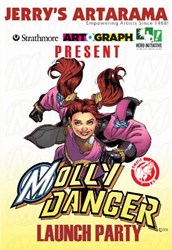 "Jerry's Artarama is excited to support Jamal in the launch of his new Molly Danger comic book series."
Raleigh, NC (PRWEB) September 19, 2013
Jerry's Artarama, a national retailer of art supplies and materials headquartered in Raleigh, is supporting the creative mission of comic book artist Jamal Igle and his series called "Molly Danger." Jerry's Artarama will be sponsoring the "Molly Danger" launch party and book signing on Saturday, Oct. 12 following the New York Comic Con at JHU Comic Books located at 32 East 32nd St. in Manhattan. Jerry's Artarama online division is the lead sponsor for the launch party. Co-sponsors of the event are Strathmore Artist Papers and Artograph which makes projectors and light boxes.
The Molly Molly Danger Book One launch party is planned for Saturday October 12th, 2013 from 9pm-12pm at JHU Comic books in New York City. The launch party is planned during New York ComicConwhich takes place at the Javits Center in mid October. The V.I.P. Cocktail hour is from 7:30-9 pm along with gift bags for attendees and catering by Bassett Caterers.
Molly Molly Danger Book One launch party proceeds will benefit the Hero Initiative, a nonprofit organization providing a financial safety net for comic creators who may need emergency medical aid, financial support for the essentials of life, and an avenue back into paying work. Co-sponsors of the event include Strathmore and Artograph.
"Molly Danger" is the story of the world's most powerful 10-year-old girl who is a seemingly immortal, strong superhero protecting the town of Coopersville for the last 20 years. The book is a hardcover, European format graphic album series scheduled to be published in early October. To help fund his project, Igle created a Kickstarter project to cover the costs of producing, printing and shipping. Money raised through Ingle's Kickstarter endeavors will also be used to hire professional talent to assist in fleshing out future "Molly Danger" series. Through his Kickstarter project, Igle surpassed his goal of $45,000, raising a total of $50,329.
Igle is an award-winning artist and writer and a 22-year veteran of the comic book industry. His clients include Marvel Comics, Walt Disney Inc., Sony Television and many others.
"Jerry's Artarama is excited to support Jamal in the launch of his new Molly Danger comic book series," said Michael Marchetta, director of marketing for Jerry's Artarama. "Being able to give back to the creative people in the art community is what Jerry's is all about, and we look forward to seeing Jamal continue to grow his artistic talents."
ABOUT JERRY'S ARTARAMA:
Jerry's Artarama is a national retailer of arts materials and supplies headquartered in Raleigh, N.C., with 15 physical locations throughout the United States and an online store. Jerry Goldstein opened the first Jerry's Artarama in Long Island, N.Y., in 1968 with the goal of offering quality discount-priced products to established artists. Jerry believed in treating customers like family, a tradition that still continues. Today, Jerry's offers more than 70,000 top-quality art materials at direct savings — as much as 75 percent off traditional retail on products from the industry's leading art manufacturers, as well as Jerry's own exclusive product lines via the online retail store, art supply catalog and Jerry's Artarama Superstores. In addition, Jerry's Artarama serves as an artist resource by offering instructional workshops, new art supply demos and special art-related events, including the Art of the Carolinas Tradeshow, an annual event held in Raleigh. For more information, visit http://www.jerrysartarama.com.
Contact
To learn more about the Molly Danger Launch Party, please contact
Michael Marchetta, Marketing Director
mmarchetta(at)jerrysartarama(dot)com